LIVE YOUR HOLIDAYS IN A DIFFERENT AND ORIGINAL WAY
Live a unique experience
Sail in a fleet with 30 other sailing boats, with complete safety and with the guarantee of North Marinas organization.
Enjoy the impressive maritime atmosphere of Sail The Way, an initiative that is currently in its 5th edition.
Choose your port of departure and sail with us the stage you want in our marine route to Santiago de Compostela.
Throughout the voyage we will have a great time with events, receptions in the ports, cultural visits, etc.
It is perfect for couples, friends and small groups and suitable for anyone, no matter age or experience.
An ideal and different holiday that you will remember forever.
BOOK WITH US
ONLY 6 PLACES AVAILABLE PER STAGE

July is one of the best seasons for sailing in the Bay of Biscay. We will leave on July 9th from the port of Bermeo, but you can get on or off at any of the stops along the way.
STAGE 1. BERMEO-GIJÓN. From 5th to 16th July
Ports of call: Getxo, Laredo, Santander and Lastres
STAGE 2. GIJÓN-A CORUÑA. From 16th to 23rd July
Ports of call: Cudillero, Viveiro and Ferrol
STAGE 3. A CORUÑA-VILLANOVA DE AROUSA. From 23rd to 26th July
Ports of call: Muxia and Muros.
From Vilanova de Arousa to Padrón you can make a catamaran trip and from there to Santiago de Compostela on foot.
You can embark and disembark at any of the ports of call. Consult for single days.
Accommodation in shared double cabin
Skipper
Insurance
Fuel
Moorings in ports of call
Merchandising of the organization (T-shirts, polo shirts, flags to decorate the boats)
Events and receptions at ports of call
Buses for visits of interest when needed
The sailboat has cutlery and crockery for cooking, oven, stove, refrigerator in perfect working order.
The Kais is a safe and comfortable boat, a Jeanneau Sun Odissey 40.30, built in France by the renowned Jeanneau shipyard and designed by Daniel Andrieu, a naval architect with extensive experience.
The hull is built in fibreglass and the deck is made of Burmese teak.
There is a bathroom in the saloon and a toilet in the forward cabin.
It has a capacity of 12 passengers and for weekly groups it can comfortably accommodate 6 passengers in 3 double cabins.
Translated with www.DeepL.com/Translator (free version)
Edorta is an experienced captain and a perfect host, with a calm and friendly character.
He will make you feel at home during this voyage where you will enjoy the sea, sport, adventure ... and relaxation.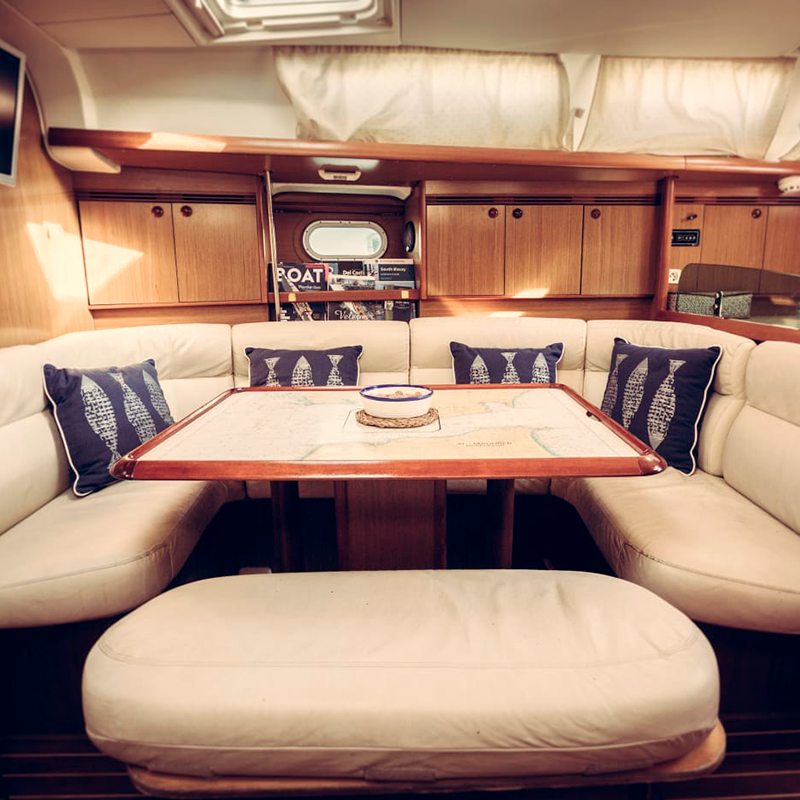 The trip is suitable for anyone, no matter your age or experience.
After each stage we will arrive at different ports where you will be able to choose your next steps: stay there, return in the transport of your choice to your starting point or continue your holiday to another place.
The return trip is not included in the price, but we do include the outings to the points of interest where we stop.
You can participate in the daily tasks of the boat as a passenger or as a crew member.
Throughout the voyage there will be events and cultural visits organized by town halls, fishermen's associations and local cultural associations that will entertain the traveller with typical products of the area. They are not yet officially closed by the organization, but we will update the information as soon as it is confirmed by North Marina.
Obtaining "La Compostela"
In order to obtain the certificate of your pilgrimage to the tomb of Saint James, you will have to do a minimum of 100 nautical miles (our stages cover this distance). You will have to do the last 10 kilometres to the cathedral on foot.
For more information you can consult the website of the Sailtheway organization, call us or fill out the form on this page.